http://zionism-israel.com/israel_news/2007/12/israel-needs-russian-sponsored-peace.html
A Russian sponsored peace conference for Israel is like the Walrus summoning the oyster for a conference about dinner.
"O Oysters, come and walk with us!"
The Walrus did beseech.
"A pleasant walk, a pleasant talk,
Along the briny beach:
We cannot do with more than four,
To give a hand to each."

The eldest Oyster looked at him,
But never a word he said:
The eldest Oyster winked his eye,
And shook his heavy head--
Meaning to say he did not choose
To leave the oyster-bed.

But four young Oysters hurried up,
All eager for the treat:
Their coats were brushed, their faces washed,
Their shoes were clean and neat--
And this was odd, because, you know,
They hadn't any feet.

Four other Oysters followed them,
And yet another four;
And thick and fast they came at last,
And more, and more, and more--
All hopping through the frothy waves,
And scrambling to the shore.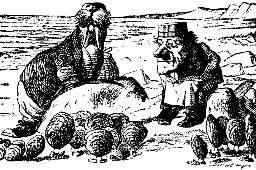 The Walrus and the Carpenter
Walked on a mile or so,
And then they rested on a rock
Conveniently low:
And all the little Oysters stood
And waited in a row.

"The time has come," the Walrus said,
"To talk of many things:
Of shoes--and ships--and sealing-wax--
Of cabbages--and kings--
And why the sea is boiling hot--
And whether pigs have wings."

"But wait a bit," the Oysters cried,
"Before we have our chat;
For some of us are out of breath,
And all of us are fat!"
"No hurry!" said the Carpenter.
They thanked him much for that.

"A loaf of bread," the Walrus said,
"Is what we chiefly need:
Pepper and vinegar besides
Are very good indeed--
Now if you're ready, Oysters dear,
We can begin to feed."

"But not on us!" the Oysters cried,
Turning a little blue.
"After such kindness, that would be
A dismal thing to do!"
"The night is fine," the Walrus said.
"Do you admire the view?

"It was so kind of you to come!
And you are very nice!"
The Carpenter said nothing but
"Cut us another slice:
I wish you were not quite so deaf--
I've had to ask you twice!"

"It seems a shame," the Walrus said,
"To play them such a trick,
After we've brought them out so far,
And made them trot so quick!"
The Carpenter said nothing but
"The butter's spread too thick!"

"I weep for you," the Walrus said:
"I deeply sympathize."
With sobs and tears he sorted out
Those of the largest size,
Holding his pocket-handkerchief
Before his streaming eyes.

"O Oysters," said the Carpenter,
"You've had a pleasant run!
Shall we be trotting home again?'
But answer came there none--
And this was scarcely odd, because
They'd eaten every one.

Last update - 11:16 20/12/2007
Israel says it opposes Russian plans for Moscow peace summit
By Barak Ravid, Haaretz Correspondent

Israel said Thursday it is opposed to Russian plans to stage a Middle East peace conference in Moscow within the coming months as a follow-up to the recent Annapolis summit.
In explaining their reservations, government officials in Jerusalem cite the need to focus on bilateral talks with the Palestinians "and not be dragged onto a slippery slope of opening negotiations on other issues like Syria and Lebanon during the present time."
Nonetheless, senior Israeli officials acknowledge that Jerusalem would be compelled to take part in the conference should the event take place.

Using diplomatic backchannels, Israel urged participants of the Quartet's Paris donors conference earlier this week to omit any mention of a Moscow peace summit from the final statement.
The United States, the United Nations, and the European Union acquiesced to Jerusalem's demand, and the matter was not included on the agenda. Government officials say Israel is perturbed by Russia's behavior, chiefly Moscow's delivery of nuclear fuel to the Iranian reactor in Bushehr.
"There are other things that the Russians are doing that we are aren't thrilled with," said an Israeli official. "But, at this point, we have no plans to create a crisis."
Copyright
- Original materials copyright (c) by the authors. Originally posted at
http://zionism-israel.com/israel_news/2007/12/israel-needs-russian-sponsored-peace.html
. Please do link to these articles, quote from them and forward them by email to friends with this notice. Other uses require written permission of the author.